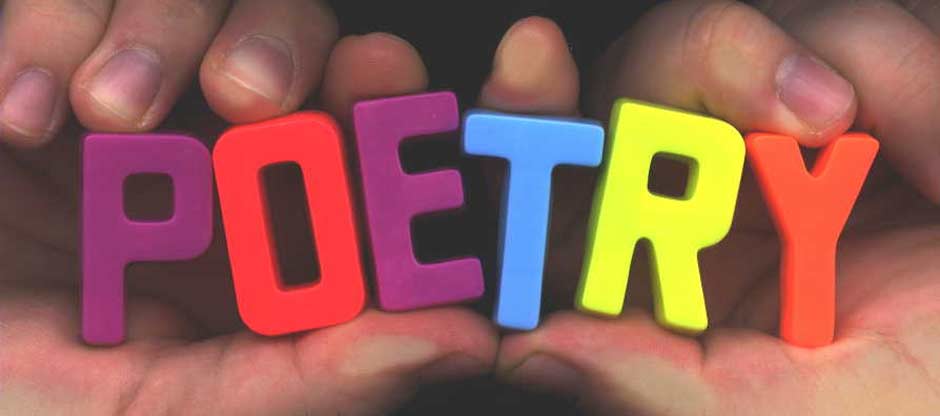 April is National Poetry Month! It's a great time to read poetry with kids. Maybe you have never been a poetry lover or your kids think poetry is boring. Give some of these books a try…they just might change your mind.
Hailstones and Halibut Bones by Mary O'Neill
A classic from 1961, this book contains poems about every color in the rainbow and was one of my childhood favorites. The poems and the accompanying illustrations have a vaguely psychedelic feel. Kids will love reading the poem about their favorite color.
A River of Words by Jen Bryant
This biography of William Carlos Williams looks at the life and works of one of my favorite poets (also a physician). It was also a 2009 Caldecott Honor Book and the stunning mixed media collage illustrations by Melissa Sweet are a perfect accompaniment to Wiliams' poetry.
The Hound Dog's Haiku by Michael Rosen
There is a reason elementary school teachers everywhere have kids write haiku. It's a deceptively simple poetry form and accessible for kids. Rosen's poems about dogs are super kid-friendly and fun. Be sure to check out his book The Maine Coon's Haiku for the cat lovers in your house.
Dear Hot Dog by Mordicai Gerstein
Each poem in this book is an ode of sorts to a different ordinary object. And each has a somewhat unexpected twist. When I read it with my kids we had fun trying to see who could guess the subject of the poem the quickest.
Mirror Mirror by Marilyn Singer
Each poem in this book is a "reverso" poem. On one side of the page is a poem, on the other side is the same poem read in reverse. The poems work equally well in both directions. The remarkable thing is that usually each poem tells the same story from a different character's perspective in a well-known fairy tale (for example Snow White and the Witch or the Wolf and Little Red Riding Hood). Singer also has equally amazing reverso poem books about more fairy tales (Follow Follow ) and Greek Myths (Echo Echo). Great for middle schoolers who will know the stories and get the complexity and double meaning of the poems.
Swirl by Swirl: Spirals in Nature by Joyce Sidman
Sidman is one of the best nature poet's for kids. This is just one of her many beautiful books that will help kids to see the world around them in a new way. Which is really what poetry is all about.
If you have a kid who thinks they hate poetry, try something by Jack Prelutsky, Shel Silverstein or Kenn Nesbitt. All three are masters of the silly, the goofy, and the downright weird.
Sometimes a great way to get kids to explore poetry is to read from a good anthology. The best anthologies will include poetry by classic poets, modern poets, and "kid" poets. You might find silly poems and sad poems. You can compare long story poems and haikus. Kids can dive in and see what they enjoy. One such fantastic anthologies are Talking to the Sun: An Illustrated Anthology of Poems for Young People (edited by Kenneth Koch and Kate Farrell) which pairs classic poetry with artwork from the Metropolitan Museum of Art. Another is Forget-Me-Nots: Poems to Learn by Heart (edited by Mary Ann Hoberman ). And one final offering: Sing a Song of Seasons: A Nature Poem for Each Day of the Year (edited by Fiona Waters). We had fun looking up the poem for everyone in our family's birthday with the last one.